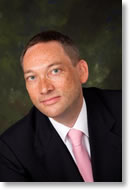 Henk Jan Moné, lawyer and member of the Netherlands Bar Association, has over 15 years experience in the field of real estate, more specifically in the areas of construction, lease law and project development. He gained most of his working experience at the Rotterdam office of the London city firm Simmons & Simmons. Clients of Henk Jan are real-estate developers, governmental organisations, but also banks and multinational enterprises.
Henk Jan completed several post-graduate courses successfully and is a member of the Netherlands Bar Association, the Netherlands Association of Construction Law Lawyers and the Netherlands Association of Landlord and Tenant Lawyers. He is author of the leading Dutch magazine of Landlord and Tenant Law for Commercial Property.
Henk Jan has a no nonsense approach. Reliable, honest and tenacious, but also creative and inventive. Added to this are his experience and expertise. His clients are happy with him.